Okey Ahiwe vows to promote youth empowerment in Abia
Okey Ahiwe vows to promote youth empowerment in Abia
The governorship candidate of the Peoples Democratic Party in Abia State chief Okey Ahiwe, has said his administration will prioritize youth training and empowerment if elected into office as governor.
He said special attention will be paid towards skill acquisition and development of the small and medium scale businesses to encourage self employment among the youth.
Ahiwe, spoke through this running mate Dr Jasper Uche, at a meeting where the Okay Ahiwe Youth Campaign Organization led byChief Victor Apugo, was official adopted as the youth arm of his campaign structure in Umuahia on Sunday.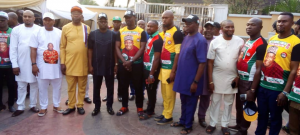 He stated the meeting was necessary to reassure the group that all their efforts and communiment towards the victory of PDP in the forth coming general election was not in vain.
Ahiwe, maintained that his administration will not leave any stone unturned until all the youths in the State were assisted to become useful citizens.
He said, "Don't feel negated or that you are not recognize.We recognize your efforts, sacrifices and communiment. That's why I'm here today.
"I believe in continuity, stability and appreciation of efforts made by people. That's why we inherited this group from our former governorship candidate who has passed on.
"I know that you people have toiled and committed a lot of resources to this group. The PDP is one and you should be allowed to continue, despite all pressures by other group to be recognized, I insisted that this group will be our official youth campaign organization.
"Okey Ahiwe doesn't believe that the future is for the youths, my own principle is that the youth should have the moment.
"We have heard that the youth belongs to the future, after many years, we also heard that the future belongs to the youth. The youths in 1979 are now Grand parents and we still hearing the future belongs to the youths.
"But my administration is intentional about youth empowerment and the eloquent way to demonstrate is to bring a youth on board as my running mate.
"He will bridge the gap between the youths and government, he will give you access and ensure that your interest is always protected in the policy trust of our government.
"Good governance is not a rocket science, what is required is the
political will and the desire to do the right thing.
"We can channel the egnery of the youth into productive activities. For instance those who engage in illegal refining of petroleum products can be trained and licenced to become Moduller Refinery owners.
"Through that we can reduce internet fraud, armed robbery, kidnapping and others vices.We also have programs for the youths both in Agriculture and other small and medium scale enterprises.We will start doing something now to help the youth to realize their dreams".
Speaking to journalists shortly after the meeting the convener Victory Apugo urged Abia youths to cue behind Ahiwe and that ensure he wins the election.
He warned the youths to shun all election vices, saying that the Nigeria election has gone beyond snatching ballot boxes and thuggery.
According to him, "The youths gathered here today to hear from our income governor to give them insight of what his administration will be like.
"It is very important that we have hear from him because it will boost our moral and assured us that his government has specific plans for the youths.
"We already know that his government has plans to take the youths away from vices like cultism, kidnapping armed and robbery.
"Different things that we don't hear of before are increasing by the day. We are glad to know that his government has program for the youths will reduce many of those vices.
"Security will come back, people will go back to school and be proud of our educational system and a lot of other good things will come our way through his government".