A year has gone since our dearly beloved son Mr. Kelvin gone missing, said Mr. Emeka Ibezim from Awomama villlage in Oru East Local Government Area of Imo State.
While we are marking one year sudden disappearance of our son, we maintained call on the Nigeria security forces to as a matter of urgency release our son, Mr. Ibezim Kelvin Chinedu from detention if they are the one holding him.
Mr. Kelvin, a member of the Indigenous People of Biafra(IPOB) led by Mazi Nnamdi Kanu and a ranking member of the Eastern Security Network(ESN) the militia wing of IPOB headed by the slain Nwokike Anyinayo Andy (popularly known as Ikonso Commander ) was last seen after the combined Nigeria Security forces operation that led to the death of the ESN commander Ikonso and six others on 24th April, 2021.
Police said Ikonso, died alongside six ESN militias while others fled during a gun battle with the combined forces of police, Department of State Security Services and the Nigeria Army at the operational headquarters of IPOB in Awomama.
Kelvin Chinedu Ibezim joined ESN under Ikonso Commander to fight injustice, marginalisation of Igbos and to defend the South East from the operations of the Fulani terrorists masquerading as herdsmen .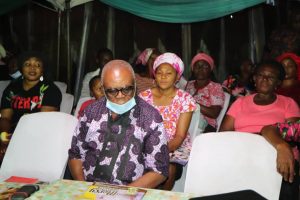 Mr Ibezim Emeka and family at one year rememberace service of their son
Mr Peter Ibezim a member of the family who spoke with Newsmen revealed that Mr. Kevin's home has been raised down by the security forces thereby living his aged parents as squatters without any hope.
He expressed that since the incident the whereabout of Mr. Kelvin has not been known and occasionally security agents come here to harass us, threatening to do more damage if we do not provide him.
The vandalized family home of Mr Kelvin
Before now the Indigenous People of Biafra has condemned the attacks and killings going on in the South Eastern part of Nigeria who were peacefully demanding equal rights as citizens or immediate separation from Nigeria to become independent sovereign state of their Biafra Land.
The group accused the Nigerian military and its other security outfit of being behind the attacks in the marginalised south eastern part of the country.
IPOB also alleged military personnel had gone from house to house searching and killing innocent citizens just because they were deemed to be agitating for their own sovereign country while the killer herdsmen and Boko Haram terrorists were left with lip service as they maimed, rape, kidnapped and kills the innocent citizens of the country.
Meanwhile, all efforts made to reach the police public relations officer, Sp, Bala Elkana , proved abortive as his phone could neither be reached before this publication.